THE CHANGING FACE OF AUTOMOTIVE DISTRIBUTION
An overview of the current automotive distribution landscape highlighting the full scope of the available options, agreements and models.
Ged O'Neill
Associate Consultant
The world of automotive distribution is transforming rapidly.
Mainstream and social media are awash with news, views and diverse opinions on widespread reductions in OEM (Original Equipment Manufacturer) networks, new channels to market, the rise of agency arrangements and much more. It is an exciting and challenging arena and is increasingly the epicentre of accelerated automotive change.
The COVID-19 crisis has undoubtedly significantly contributed to this increased spotlight on distribution with its transformational and acceleratory effects being felt across multiple areas of retail, including increased full-lifecycle digital take up, significant rises in contactless service demands and enhanced customer expectations of true omnichannel optionality.
Elevenci's Consultant Ged O'Neill is a recognised expert in international retail strategy and planning, with extensive sector experience across multiple OEMs and brands. Ged is at the forefront of Elevenci's thought leadership and focussed propositions for OEMs and large dealer groups grappling with the diverse challenges of navigating a clear, cohesive path through the complex 'shifting sands' of automotive distribution.
In this introductory article, Ged provides an overview of the current automotive distribution landscape and highlights the full scope of options, agreements and models that OEMs and dealer groups must consider as they adapt and transform for the new world of distribution ahead.
'A Simple Model, Well Understood'
Franchising distribution is by far the most common method of distribution in the Automotive industry. It was born out of the desire of OEMs to concentrate their efforts on their core business of manufacturing vehicles and spare parts.
The model is prevalent across the automotive world (cars, LCVs, motorcycles, trucks and wider assets including marine, equipment and plant) although there are some notable exceptions where outlets are owned and operated by OEMs – Tesla being a prime example.
It's a simple model, proven and well understood. The OEM uses a franchise agreement to appoint a network of independent dealers, the OEM sells products to the dealers and the dealers sell those products to the end customer.
The diagram below summarises the key elements of the current model.
Drag the slider to the right to see how the future model might look: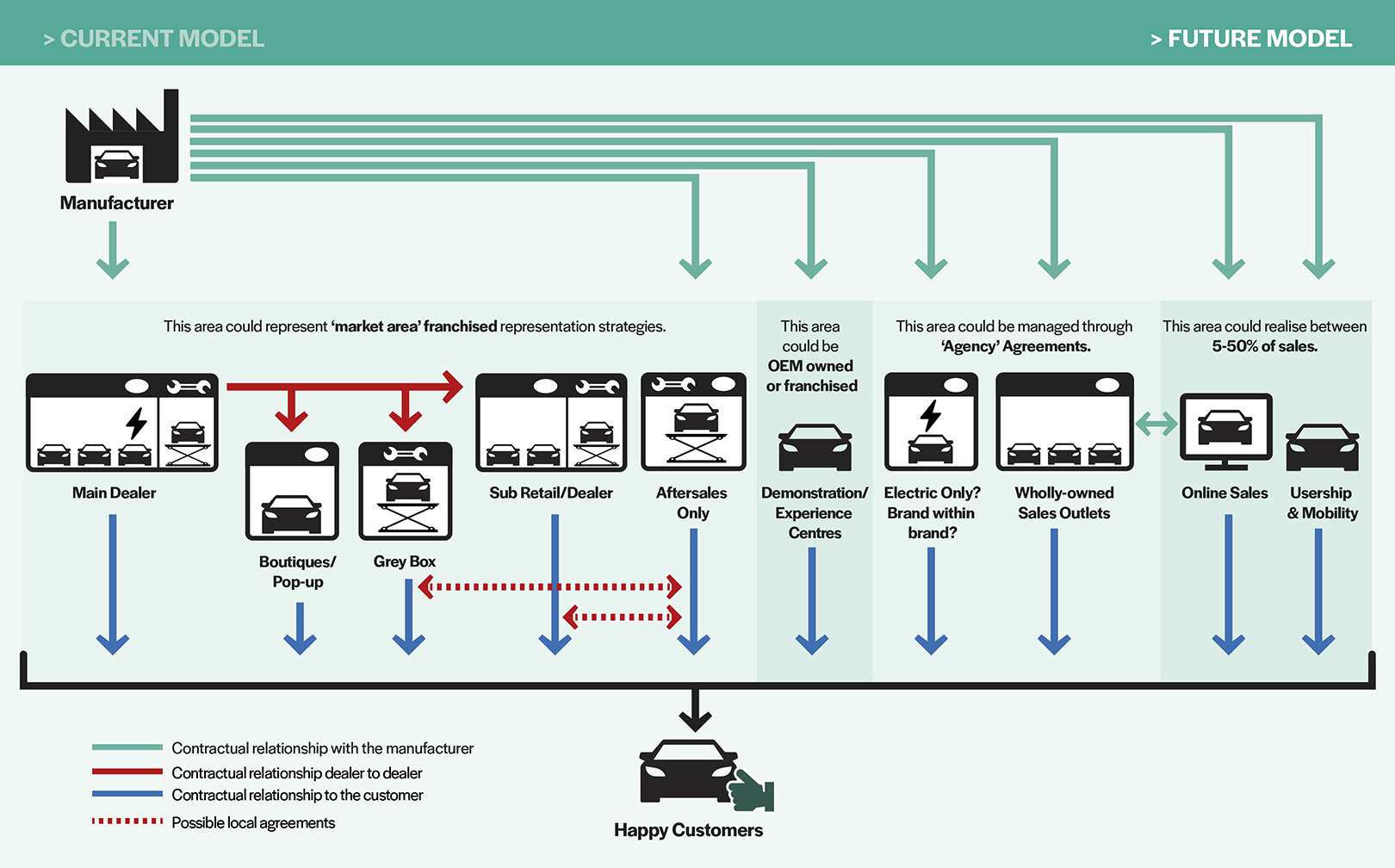 'A New Landscape'
The future of distribution will look very, very different from today.
A myriad of structures, channels and new relationship models will characterise a new, diverse distribution ecosystem.
OEM distribution strategy requires careful consideration of multiple options including OEMs potentially developing a 'armoury' of agile structures, channels and underpinning agreements supporting:
Physical representation – including:
Main dealers
Sales-only outlets
Market area representation
Retail/sub-dealers
Boutiques
Grey boxes
Pop-up stores
Demonstration/experience centres
Dual franchising
Brand within brand
Direct sales through digital channels
Any or all may be:
Franchised to one OEM
Multi-franchised to many OEMs
Agency (including multiple agency arrangements)
Sponsored
Self-owned
With options on 'ownership' and 'usership' for the customer from:
Outright purchase
Financed (e.g. PCP)
Leased
Flexible rental
Subscription
Evolving mobility and pay as you go/usage models
Or even a mix of some of the above
With products/vehicles powered by a variety of methods:
ICE (internal combustion engines)
Hybrid
PHEV
BEV/EV
Hydrogen
And increasingly omni-channel sales and service including:
Through physical representation (dealerships, manufacturer owned outlets, etc.)
Directly (e.g. through digital)
Fancy an informal chat over coffee about how Elevenci can help you navigate the new opportunities and challenges of automotive distribution?
Elevenci has deep experience and has developed powerful new thinking in this area, translating this into tangible services and capability to help OEM and Dealer Group clients as they formulate the distribution strategies of the future.
We bring hugely valuable 'out of the box' insights, ideas and best practice solutions that we would love to discuss with you.
No fee, no obligation, no fuss – value is guaranteed.